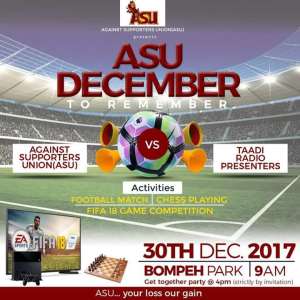 Yuletide will soon be here and again ASU is billed to converge at the Bompeh Senior High and Technical School park for its annual fun-packed festival dubbed, December-to-Remember.
In what started as a mere WhatsApp fan-page harbouring members of various football clubs across the length and breadth of the globe, Against Supporters Union, simply called ASU, has gradually grown into a large family bound by mother football and sustained by brotherly love and healthy intellectual discourses on its social media pages.
Speaking to StandupGh's Emmanuel Badu, President of the Union, Mr. Seth Asiedu, an architect and sports pundit, revealed that the annual December-to-remember festival aims at fostering greater unity and deepening existing bonds amongst members of the union.
Mr. Asiedu further stated that the festival serves as a platform where members of the union meet to relax, have fun, reflect on issues and spell out strategies to reach set goals.
This Yuletide's festival, which will see an ambitious team of Takoradi Radio Presenters as the sole opponent to lock horns with ASU in all activities, is slated for December 30.
The festival commences at exactly 9AM and will feature such activities as football matches, chess playing and FIFA 18 game competition. It'll then climax with an after-party which is strictly by invitation.